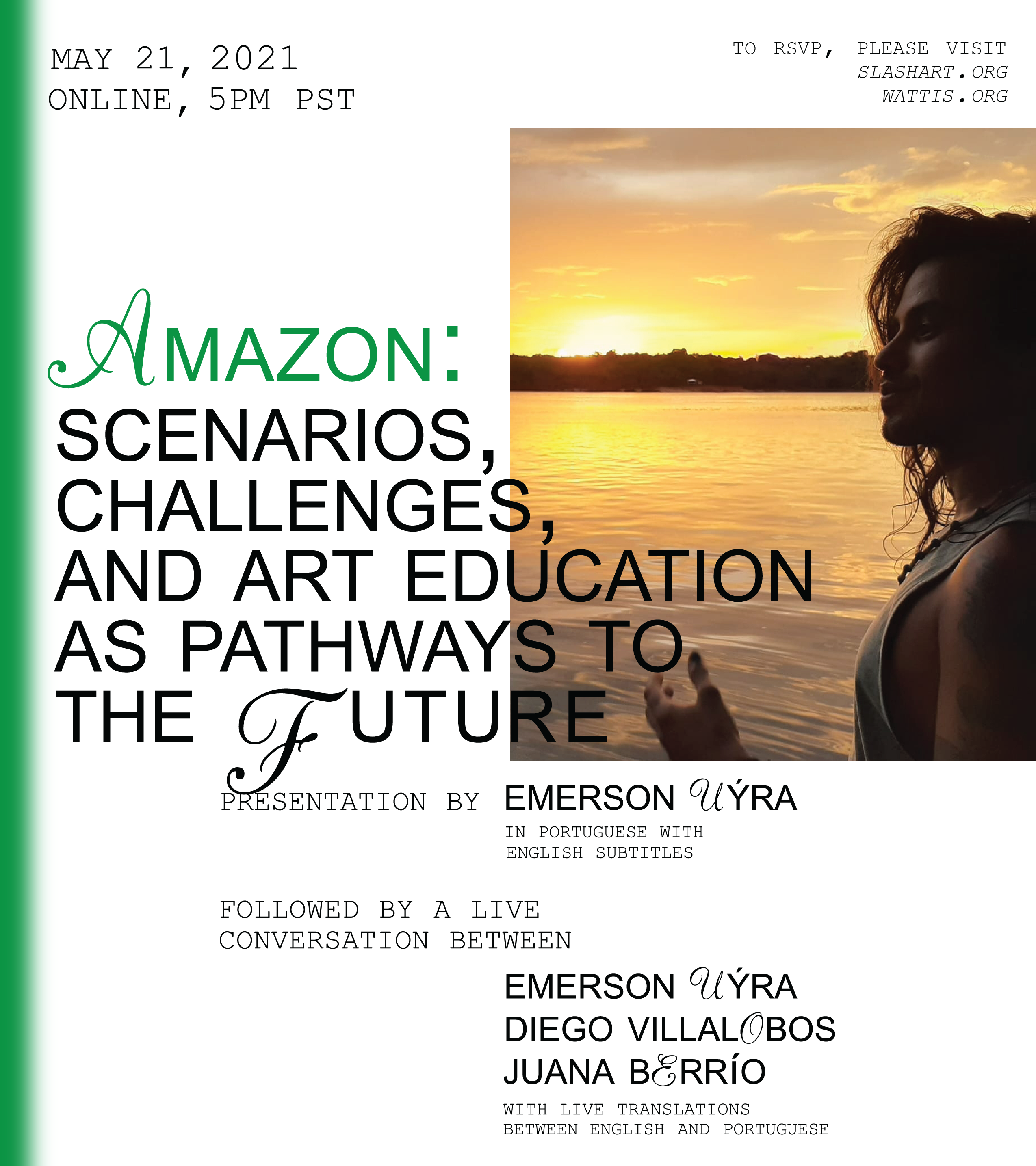 The Amazon: Scenarios, Challenges, and Art Education as Pathways to the Future. A lecture by Emerson Uýra
May 21, 2021 | 5:00pm PDT | Click here for recording of event
Emerson Uýra shares stories and challenges inherent to life in the Amazon in 2021, speaking with, from, and through the forest from their home in Manaus, Brazil, an industrialized city in the middle of the rainforest in the state of Amazonas. Uýra speaks through their hybrid identity, one that interweaves Emerson Munduruku, an Indigenous artist, educator, activist, biologist, and ecologist, and Uýra Sodoma, a drag queen persona born in 2016, who embodies a "tree that walks" through performance. Uýra addresses tensions and encounters between the forest and the city, between traditional cultures and capitalist interests. Acknowledging that social, cultural, and environmental issues cut across time and space–that speaking about the Amazon is also speaking about the planet–Uýra proposes collaborative pathways for healing now and into the future.
Emerson Uýra (b. 1991, Santarém, Brazil) has shown their work in the Galeria de Artes Visuais do Largo São Sebastião, in Manaus, Brazil, the Instituto Tomie Ohtake in São Paulo, and will be included in the upcoming São Paulo Biennial. They live in Manaus, Brazil.
Juana Berrío is an interdisciplinary cultural producer based in New York, where she works as Curator of Public Programs and Associate Director of NY Residency at Amant Foundation.
Emerson Uýra's works are included in Arboreal on view at / until June 26, 2021.
This event is co-organized with the Wattis Institute. This is the tenth event of the Wattis's year-long season dedicated to thinking about our contemporary moment through the lens of Cecilia Vicuña's work.