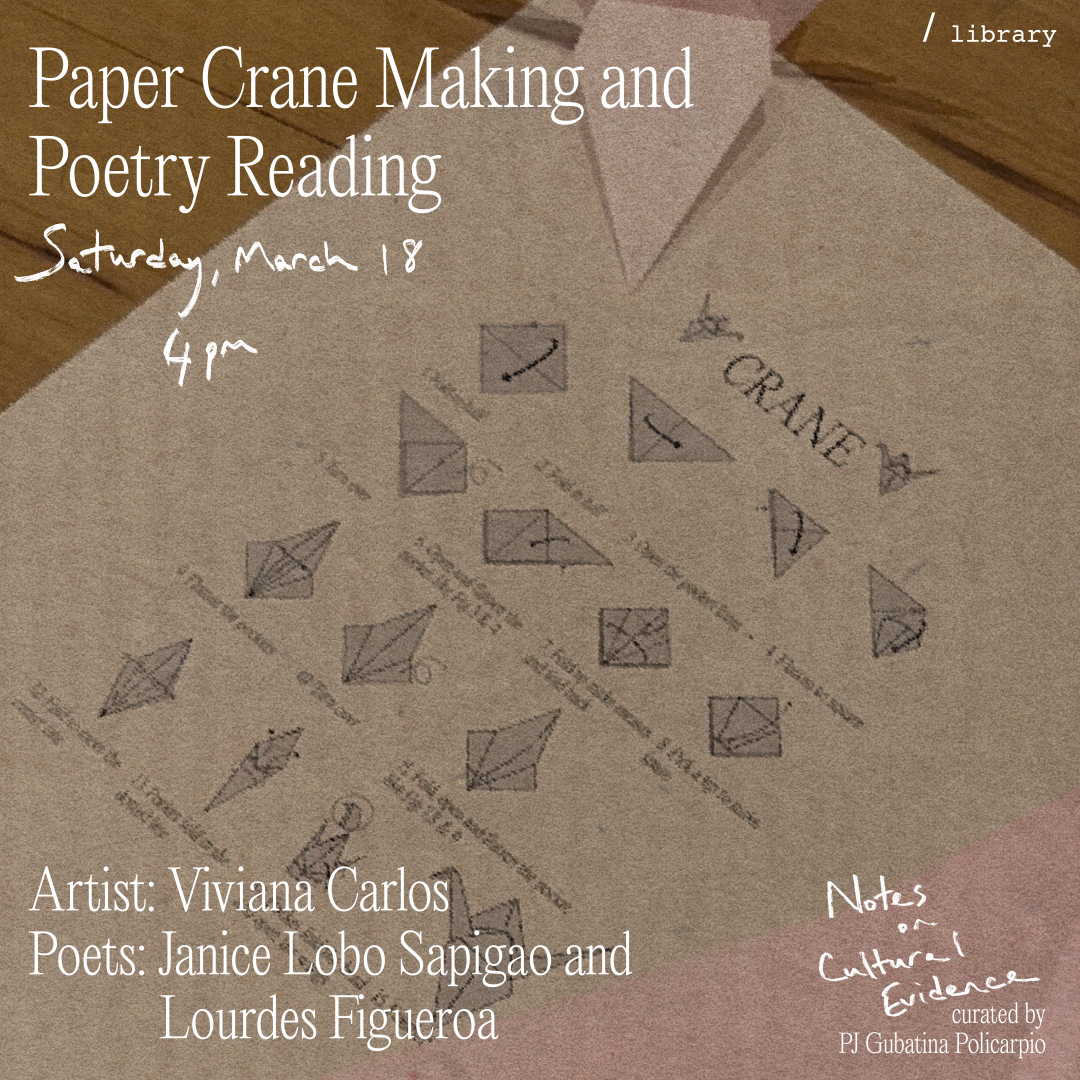 Paper Crane Making and Poetry Reading
Saturday, March 18, 2023 at 4-6pm
Location:/(Slash) 1150 25th st, Building B, San Francisco 94107
This is a free event and registration is not required
On the occasion of Notes on Cultural Evidence, curated by PJ Gubatina Policarpio, we invite you to an afternoon gathering that centers feminist poetics and collective world-building. Please join artist Viviana Carlos, whose work is included in the library exhibition, in a collaborative crane-making activity, and hear poetry from Bay Area poets Janice Lobo Sapigao and Lourdes Figueroa.
During the exhibition Notes on Cultural Evidence, the library reading room will be activated frequently as a site of learning, research, and collaboration through readings, workshops, and gatherings.
Viviana Martinez Carlos is a transdisciplinary artist born and raised in Mexico and currently based in San Francisco. Her work is located at the intersection of multi-media installation, artist book, research, and writing and redefines and challenges traditional conventions of uprooting, normative femininity, and grief. She received her BA from the University of Guanajuato, Mexico, and completed the continuing education program in Art Anthropology at the Center for Research and Higher Studies in Social Anthropology in Mexico City. She has exhibited her work across California, Mexico, and Europe and is currently a bilingual teaching artist at the Museum of African Diaspora and BAMPFA.
Lourdes Figueroa is a Chicanx poet. Her poems are a dialogue of her lived experience when her family worked in el azadón in Yolo County. The words el azadón are used by the ones who work in the fields — the work of tilling the soil under the blistering sun. She is the author of the chapbooks yolotl and Ruidos = To Learn Speak, completed during her Alley Cat Books Residency. Her chapbook Vuelta was recently published by Nomadic Press and can be found at Medicine For Nightmares Bookshop in the Mission and SPD. She works and lives in Oakland with her wife, filmmaker, Peggy Peralta and their red nose pitbull Agnéa. She is a native of limbo nation. Lourdes continues to believe in your lung and your throat.
Janice Lobo Sapigao (she/her) is a Filipina American poet from San José, CA. She is the author of two books of poetry, microchips for millions (Philippine American Writers and Artists, Inc., 2016) and like a solid to a shadow (Nightboat Books, 2022). She was the 2020-2021 Santa Clara County Poet Laureate.