Artist Talk by Martha Rosler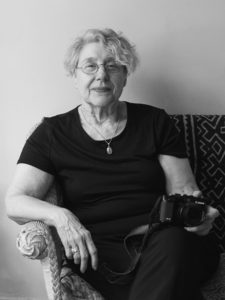 On the occasion of the exhibition Martha Rosler / Eric Wesley, / is honored to present an artist talk by Martha Rosler moderated by the San Francisco-based curator Tanya Zimbardo at Minnesota Street Project on Thursday, April 18, 2019 from 7 to 8:30 PM.
About the Artist
Born and based in Brooklyn, NY, Martha Rosler has created videos, photographs, text installations, and performances since the 1960's, connecting matters of the home and everyday life to issues of the world at large, such as wars fought abroad, centering the politics of womanhood.
Through her photomontage series House Beautiful: Bringing the War Home and videos Semiotics of the Kitchen and Martha Rosler Reads Vogue, this pioneering artist of post-conceptual practice confronts the politics of text/image making and investigates how such politics continue to shape our present, while simultaneously confronting sexism, war, and gentrification.
Martha Rosler has had major exhibitions at institutions including the Jewish Museum, New York (2018); Kunst–museum Basel, Switzerland (2018); the Museum of Modern Art, New York (2012); The New Museum, New York (2000); and the Dia Art Foundation, New York (1989). Her work has been included in numerous group exhibitions and Biennials, as well as two Documentas (2007, 1982), and at institutions such as the Hirshhorn Museum, Washington, D.C. (2018); the Whitney Museum of American Art, New York (2018); the National Gallery of Victoria, Australia (2018); the Brooklyn Museum, New York (2015); the Museo Nacional Centro de Arte Reina Sofía, Madrid (2013); and the Museum of Contemporary Art, Los Angeles (2011). Rosler has also published 17 books of photography, art, and writing in several languages. She received Hamburg's Lichtwark Prize (2017), the Women's Caucus for Art Lifetime Achievement Award (2016), the College Art Association Distinguished Feminist Award (2013), the Guggenheim Museum Lifetime Achievement Award (2010), the Spectrum International Prize in Photography (2005), and three honorary doctorates.
About the Moderator
Tanya Zimbardo is a San Francisco-based curator. As the assistant curator of media arts at the San Francisco Museum of Modern Art, she has curated solo exhibitions of work by Pat O'Neill, Jim Campbell, Kerry Tribe, Runa Islam, and co-curated Nothing Stable under Heaven and Soundtracks, among others. Zimbardo has guest curated projects at nonprofit arts organizations including the 500 Capp Street Foundation, di Rosa Center for Contemporary Art, Mills College Art Museum, and San Francisco Cinematheque. She has contributed to publications such as Voices in Contemporary Art Journal and INCITE: Journal of Experimental Media.
Martha Rosler / Eric Wesley is on view at / until May 5, 2019.